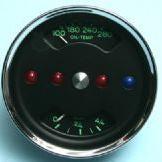 Please note that gauges are no longer an inventoried item.  Gauges are now Special order and can take anywhere from 30-120 days to deliver.  Sorry for the inconvenience...
Original reproduction of 550 Spyder Combination gauge (includes sending units for proper reading). We start with an original Porsche gauge and have it refaced and refurbished to new specifications with the 550 Spyder look. Available in C° or F°.
Note, To see a larger detailed image, simply copy and paste the image into an email.