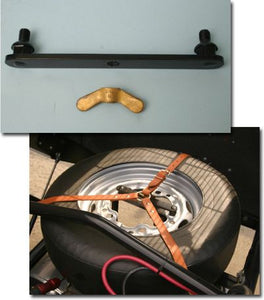 Spare tire mounting bracket, 5 lug wheel only.
Please note that this bracket is for converting your existing 4 lug spare wheel mounting bracket system to fit a 5 lug wheel.  You will also need to drill two holes in your bracket to allow this bracket to mount properly.
Kit includes as seen in photo:
1) Nine inch black bracket.
1) Large brass wing nut.
(You will still need the bottom half of the spare wheel mounting bracket that should already be welded to the chassis of your car.  If you do not already have this bracket welded to your chassis, this item (#HA45) will not work by it's self.